Yes!  Beginning October 1, 2017, we sell both Professional Quality Soft Cases and Pedaltrain Tour Cases - at pedaltrain.com and dealers worldwide.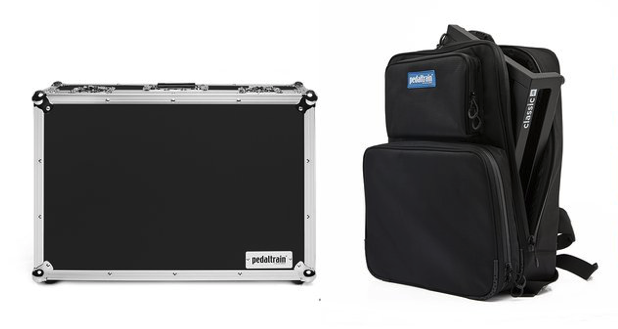 We now offer Premium Soft Cases in the following sizes:
Nano/Nano+
Metro 16/20/Mini
Metro 24
Novo 18/Classic Jr/PT-JR
Novo 24/Classic 2/PT-2/Classic 1/PT-1/Fly
Pedaltrain Pro/Novo 32/PT-PRO
All of these cases feature water-resistant fabric and zips, thick padding, multiple carry handles, exterior pockets, and convertible backpack straps with weight relief at the sternum and waist (except the Pro, which has a shoulder strap).  The handles are reinforced with rivets, and, in the case of the Pro, six rivets! 
Before we launched, the bags were tested on the road by some of the world's best touring musicians and pedal industry vets.  They took them around the world and back again.  We asked for brutally honest feedback.  In the end, we designed something that we feel is game-changing. The build quality is exceptional, the features robust, and the price is fair. Compare. You'll see.
If you compare to other brands, you will see that we destroy the competition in build quality and value. These cases are a tremendous value. Over time, as Pedaltrain Premium Soft Cases are tested and reviewed in the market, we believe they will become the #1 bag in the world. 
In fact, these are just the first of our new PSC line, and we've set a goal internally to become the #1 premium soft case company in the world by 2020.  Buckle up, buttercup; the Pedaltrain is steaming ahead. 
If you need the added protection of our Tour Case, we have you covered.  We've produced the following Tour Case sizes in a throw-back Jet Black color.  Our original tour cases were all black, so that's cool.  Here are the sizes:
Metro 16
Metro 20/Mini
Metro 24
Novo 18/Classic Jr/PT-JR
Classic 1/PT-1/Vintage Pre-PT1 Pedaltrain (they are still out there)
Novo 24/Classic 2/PT-2
Classic Pro/Novo 32 with Wheels
Terra 42 with Wheels
Features include all the things you'd expect from Pedaltrain Tour Cases: durable plywood and laminate construction, ATA approved ball corners, fully recessed carry handles, lockable latches, tongue-in-groove aluminum extrusion edging, tough rubber feet, fully lined with dense rubberized foam, lid lined with 2 1/2" impact absorbing egg-crate-style foam, and a hinged lid with built-in lid stop.