SETUP YOUR TUNER
The primary function of the SST tuner is to serve as an always-on tuner connected to the tuner out jack of a volume pedal. The SST can also be used in-line for always-on, continuous tuning.  The SST is buffered without bypass.
Once you've positioned SST on your Pedaltrain, follow these setup steps:
Connect SST to a 9V Power Source (not included). We like Pedaltrain Spark or Pedaltrain Volto, but any standard 9V pedal power supply will work.
Run 1/4" audio cable from your volume pedal's Tuner Out jack to the SST's Input. Tune up and play!
Alternatively, you can run SST in-line, like you would for any pedal. Connect the incoming signal to the Input and then from SST'S Output to the next pedal. If SST is in-line, keep in mind some effects placed before the tuner may hinder SST's ability to read your signal accurately (pitch, modulation, reverb, etc.).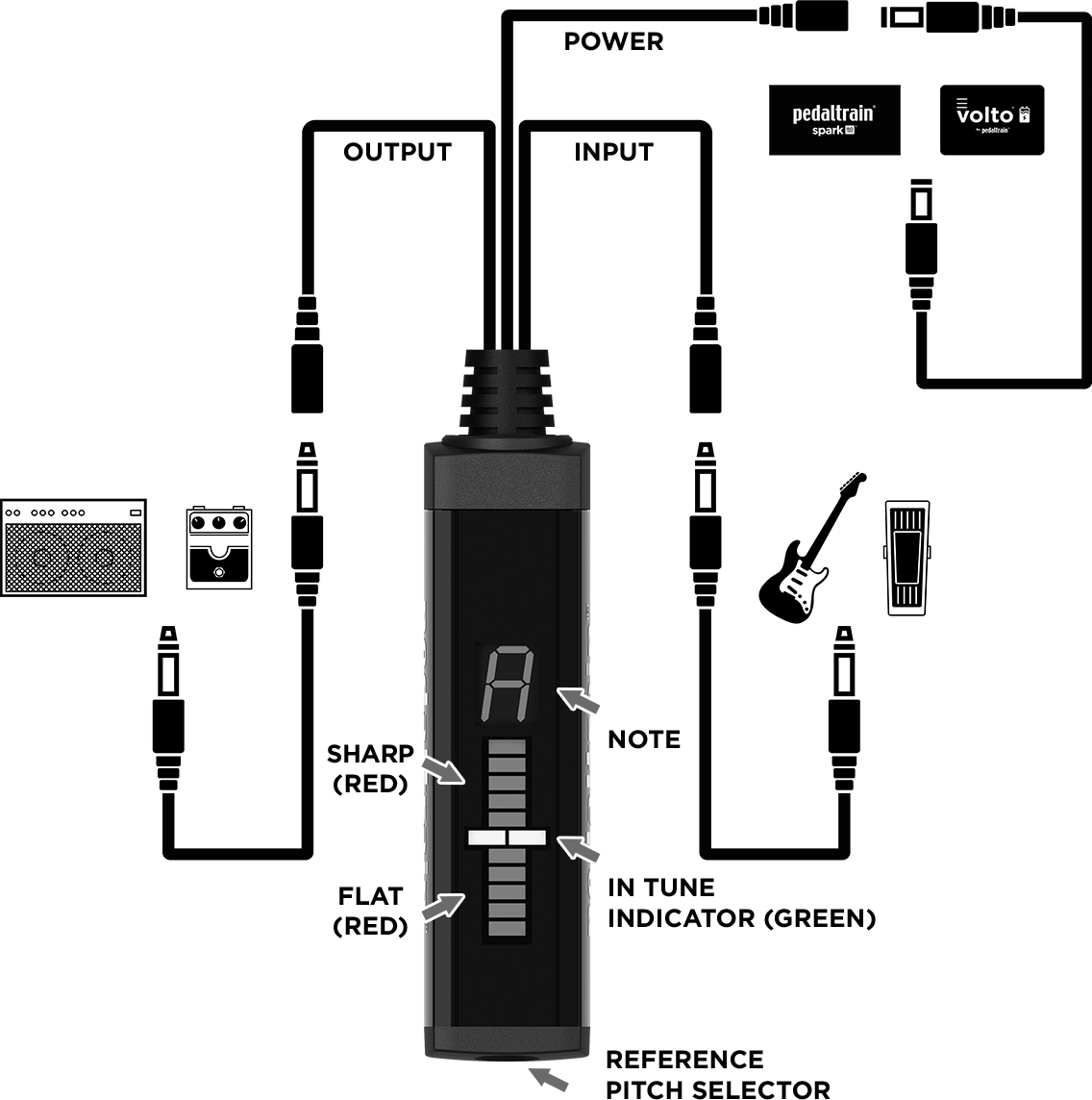 OPERATION
After completing the steps to setup and connect your tuner, play a single note on your guitar or bass and tune it.
The note name closest to the tone being played will be displayed in the SST digital display. Tune your instrument until the green in tune indicator is lit.
The red lights below the green indicate tone is flat and the red lights above the indicate tone is sharp.
TIP: we recommend the best practice of tuning up to pitch, rather than down. This practice helps make sure your guitar stays in-tune with proper string tension and seating in the nut.
NOTE: The power spec for the SST tuner is much higher than other brands due to the extra bright LEDs. The current power specs for SST is 120mA.  If the 9V input voltage has significant ripple due to overloading the power supply, this may result in note readings that bounce and SST may have difficulty tracking.
CALIBRATION
The SST comes ready to tune at the standard pitch of A=440. To adjust the reference pitch, press and hold the reference pitch selector to enter into pitch selection mode. Use the reference pitch selector to cycle through A=438 to A=445. The display will indicate the last digit in the reference pitch.  8 = 438, 9 = 439, etc.
FEATURES
Pedaltrain SST Chromatic Tuner is Pedaltrain's unique take on theessential tuner pedal. SST's super compact design slides between pedals (in many cases under neighboring 1/4" jacks), saving spacefor more pedals on your Pedaltrain.
Features include everything you'd expect and a few surprises:
Fast and accurate tuning (+/- 1 cent)
High brightness LED display for playing outdoors
Always-on, always-ready design
Innovative form factor with Input, Output, and 9V Power connections managed via flexible dongle
Audio and power connections are routed under the Pedaltrain, out of the way
Optimally designed for use via dedicated tuner-out from volume pedal
Maximize space by tucking between pedals, even under neighboring 1/4" pedal jacks
Eight selectable tuning reference pitches A438 to A445
Durable aluminum chassis with acrylic display and ABS ends
No batteries, external power required
WARNINGS
To reduce the risk of fire or electric shock, do not expose this unit to rain, moisture, or a damp environment.
Do not remove screws from chassis, as there are no user serviceable parts inside. Opening the unit will void the warranty.
Use of power source other than those of the specified voltage and type may damage your unit and void the warranty.
SPECIFICATIONS
Chromatic Tuner
High brightness LEDs
Reference Pitch: A4 = 438 to 445 Hz (1 Hz step)
Tuning Range: C0 (16.35 Hz) to C8 (4186 Hz)
Tuning Accuracy: +/-1 cent
Input Impedance: 1 MΩ
Controls: Reference Pitch select switch
Connectors: Input, Output, 9VDC
Power Supply: 9VDC (power supply not included)
Current Draw: 120 mA (Max.)
WARRANTY
Pedaltrain SST is covered by a one-year warranty to the original owner against defects in materials and workmanship with proof of purchase. Pro Stage Gear shall not be liable for any incidental or consequential damage to persons or property caused by use, abuse, misuse, or improper storage or transport of the unit. This warranty does not cover normal wear and tear. This warranty shall not apply to any goods that have been altered or modified by anyone other than an authorized Pro Stage Gear repair agent. All warranties are valid to the original purchaser only and are not transferable. Warranty period applies to USA residents only. Check with your local distributor for warranty information outside the USA.
 Download the SST User Manual: